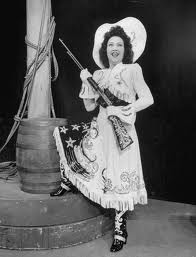 The story has it that when Irving Berlin's new musical Annie Get Your Gun was being readied for its 1946 Broadway opening with Ethel Merman in the title role, the legendary composer was so nervous about one particular number, There's No Business Like Show Business, that he was prepared to yank it from the show.
He didn't of course, and the rest is show business history, since the song has become the unofficial anthem of the American dramatic arts.
A nostalgic look back at Buffalo Bill's colorful Wild West show from the 1880s, Annie Get Your Gun offered a formula romance between hillbilly sharpshooter Annie Oakley and crack rifle shot Frank Butler. The show introduced some classic Broadway hits, including You Can't Get a Man With a Gun, They Say It's Wonderful and the comic duet Anything You Can Do which highlighted the intense rivalry between Oakley and Butler even as they were preparing to exchange their wedding vows.
Critics were divided over whether the show's success owed more to Berlin's score or the unique pizzazz with which Merman personified Annie Oakley. The argument was settled when Merman was replaced by her stand-in for six weeks during the summer, and attendance dropped sharply until her return.
More than half a century later, a new Broadway production of Annie Get Your Gun, at the Marquis Theatre in Times Square, has proven the durability of Berlin's music as well as the story by Herbert and Dorothy Fields. While it's true that not every musical number has staying power, it's a wonderful, spine-tingling treat to watch as most of Berlin's simple, old-fashioned music takes on new life with this adept cast.
Bernadette Peters replaces the Merman charisma with her own unique brand of charm as Annie Oakley. If the show initially lacks sparkle, the situation improves the moment she makes her entrance. Tom Wopat makes an increasingly sympathetic Frank Butler. By the end of the second act, the stage chemistry between the two is almost electrifying.
With this production, which was directed by Graciela Daniele who choreographed the hit show Ragtime, we are given an unusual and certainly distorted glimpse of American society of more than a century ago. We are indeed receiving these stories of the Old West through a glass darkly: first from the vantage-point of the show's original framers in 1946, then through the eyes of its modern revivalists.
Thus, I regard it as a small triumph that we get even a seemingly genuine, albeit fleeting, perspective of American society of the 1880s. After her triumphant European tour, Annie and Frank meet at a New York ball, in which she looks with disdain upon all the lovely high-bred ladies with long white gloves — a reference, certainly, to the elite of 19th-century New York society known as the "Four Hundred."
Annie Oakley's backwoods charm contrasts sharply with the slick sophistication of her urban rivals. Indeed, she hails from such honest and upright American pioneering stock that she hardly understands the necessity of female guile in order to win a man. Only in the closing scenes does she pretend to be a less talented sharpshooter than Butler, forfeiting a shooting match with him in order to secure him as a husband.
This battle of the sexes is certainly no less relevant today as back then, and no doubt will be equally amusing a century from now. ♦
© 1999