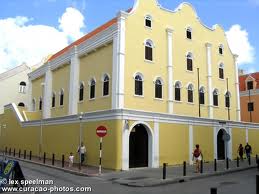 Situated in the Caribbean some 63 kilometres from Venezuela, the Dutch island of Curacao is a rugged, hilly outcropping with some 160,000 inhabitants.
Although most are Catholic, they represent about 80 nationalities and speak four official tongues: English, Dutch, Spanish and Papiamentu, the native lingo that is a smorgasbord of Old Dutch, Portuguese and African slave dialects. Curacaoans are proud of the island's small but prominent Jewish population of 700, whose ancestors found sanctuary here in the centuries after the Spanish and Portuguese expulsions.
Visitors will be easily won over by its capital Willemsted and its fine Dutch colonial architecture. A longstanding government edict prohibiting white buildings is still loyally followed. Most walls in town are bright creamy yellow or orange, including those of the famous Mikve Israel-Emanuel synagogue.
Willemsted's century-old Queen Emma floating bridge links the Punda and Ostrabunda neighborhoods. Formerly only the barefooted were exempted from paying the toll but today everyone may cross for free. Nearby is the so-called "floating market," a row of ships that arrive every morning from Venezuela with fresh fruits and vegetables for sale.
After exploring Willemsted, visitors may wish to see the Seaquarium, where thousands of brightly colored fish (including the bulbous "Jew-fish"!) are displayed. Several old forts located around the island include Fort Nassau, which offers a good restaurant and a breathtaking view. Fort Amsterdam houses the Governor's Palace and a Dutch Reformed Church.
Plantation landhouses dot the island, most of them elegant old mansions that overlook vast estates. They provide a strong contrast to the small pitiful cement huts that once housed the slaves who worked the plantations. There was an important slave revolt in 1795, six years after the French Revolution that probably inspired it. But emancipation did not finally come to the island until 1863.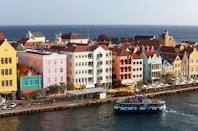 Languishing in tropical heat, refreshed by constant tradewinds, Curacao is in many ways a study of contrasts. Despite high unemployment, there are about 50,000 cars on the island, one for almost every three people. And on this island where one old-fashioned thatched-roof hut still stands, the government and private interests joined together several years ago to build a $20-million state-of-the-art convention facility.
The largest of the five islands that comprise the Netherland Antilles, Curacao must compete for tourists with Aruba, which dropped out of the Netherland Antilles several years ago. Tourism officials concede that Aruba has finer beaches but argue that Curacao's rich history and variety of attractions make it the place with "something for everyone." They hope that many of the cruise ship passengers who spend an afternoon here will return for stays of longer duration.
Mikve-Israel, said to be the oldest surviving synagogue in the New World, is regarded as a major tourist attraction and receives some 15,000 visitors per year. Services are still occasionally conducted there. A minyan meets regularly at an Orthodox shul in the suburbs. ♦
© 2002