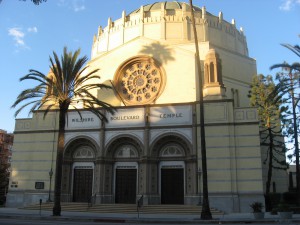 When your address is Hollywood and you'd like some murals in your synagogue, who are you going to call?
L.A.'s Wilshire Boulevard Temple is a magnificent structure, both inside and out. Modeled roughly after the Great Synagogue of Florence, its features seem by turns pure Byzantium and pure Hollywood. Large as a cathedral, it boasts a large rose window and a 100-foot-high mosaic inlaid dome.
Beneath the dome, the sanctuary walls and arches are decorated with a series of smart Florentine-murals depicting a variety of Biblical scenes.
These vivid paintings present highlights of biblical history with much of the pomp and pageantry of a Cecil B. De Mille motion picture. Rendered in a sort of acrylic Technicolor are dramatic scenes of the Creation, the Exodus from Egypt, the Receiving of the Ten Commandments at Sinai and many others. Painted arches and panels depict the friendship of David and Saul, the court of King Solomon, the destruction of the First Temple, the Babylonian exile, the restoration of the Second Temple and its destruction, and the Roman soldiers forcing Jews to carry the large Jewish menorah from Jerusalem as war booty.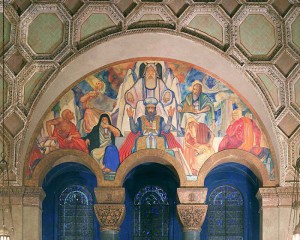 This venerable shul was built in 1928 — the year after Al Jolson sang in The Jazz Singer, the first talkie. The studio heads, who commanded armies of talent, were emerging as Pharaonic moguls. The Warner Brothers, as members of the Wilshire congregation, sent a studio painter to the temple with instructions, apparently, to do for the building approximately what Michaelangelo had done for the Sistine Chapel.
There are still many Jews in Los Angeles who prefer to pray in unadorned surroundings, but the Wilshire congregants have evidently never been among them. They seemed eager to celebrate their heritage, to shout it out in that special mix of gratitude and pride that comes to a community that has put down solid roots and thrived.
"One of the most important things to know about the Jews of Los Angeles is that the community has always done well here," says Jerry Freedman-Habash, vice-president of the Jewish Historical Society of Southern California and an adept guide to the city's Jewish sites. "There's been very little anti-Semitism here as compared to most of the country. Part of the reason is that this city has always been a diverse city. There are many minority groups."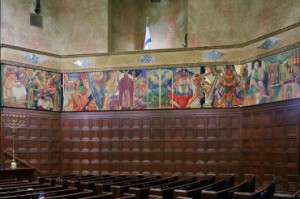 We spend a morning and early afternoon visiting synagogues. One building, which Freedman-Habash describes as "the temple of the stars," is decorated with a theatrical marquis bearing the words: TEMPLE SHOLOM. But none impresses me more than the Wilshire Boulevard Temple, which is properly considered a landmark of American Jewry.
The largest Reform temple in the United States is decorated with an American flag: its congregants proudly described themselves as "Americans of the Jewish faith." They were also traditionally cool to the Zionist cause: only in the last decade has the congregation permitted an Israeli flag to be displayed.
Shabbat morning services usually attract about 150 to 200 people, according to Freedman-Habash, although some 2,400 families belong to the shul. "Many of them live far from the Wilshire district but they're never going to give up their memberships, and this shul is never going to move," he says, emphasizing the special attachment the city's 600,000-strong Jewish community feels for this particular institution.
Open to visitors most weekdays, the Wilshire Boulevard Temple is located at 3663 Wilshire Blvd.
* * *
Hotel Del Capri: In a city where hotel prices seem prohibitively high for travellers of moderate means, it's nice to find a centrally-located inn that supplies basic comforts and numerous amenities at a price low enough that some might mistake it for a typo.
Situated at 10587 Wilshire Blvd. in fashionable Westwood near Beverly Hills, the Hotel Del Capri offers (in 1998) double-occupancy guest rooms for $100, including parking and continental breakfast. Suites with kitchenettes start at $125. A favourite of many international performing artists, the 81-room establishment is clean, quiet and well-kept, and features a flowery courtyard with a kidney-shaped pool.
A good recommendation in a Frommer's guidebook was what initially drew me to Hotel Del Capri, but its exceedingly good value will be what draws me back. ♦
© 1998