From the Toronto Star, September 8, 1938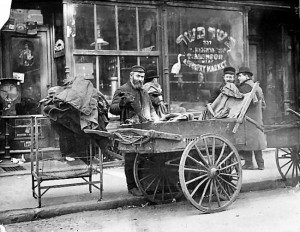 Charges of petty thieving by peddlers were today discussed by the civic works committee.
Alderman Salsberg demanded an explanation from the street cleaning commissioner, Harold Bradley, of his reported statement that licensed peddlers were guilty of such misdemeanors. He said that such statements, emanating from the head of a department, were "unwarranted and unjust."
"The statements are untrue and create suspicion against all licensed peddlers," he declared, saying that he had discussed the accusations with Mr. Futerman, president of the Hebrew Peddlers Union.
"I was told that of the 600 members in this union, 95 per cent are Jews and are never out on the streets until after 7 a.m.," he related, telling the committee that the men were "extremely religious, dependable and spent every morning in the synagogue."
He said that the union wanted legislation prohibiting all from collecting during the early morning hours.
"Nuisance Increasing"
"The nuisance these prowlers cause is increasing each year," Commissioner Bradley said, declaring that they "pilfer through garbage cans."
Alderman Salsberg maintained that such pilfering was the work of a few who were forced to carry on such operations.
The alderman said that his home had been the scene of five petty thefts in recent weeks but added that he would not accuse any licensed peddler.
"There has been a wave of petty thieving," he declared, telling the committee he had lost a pressing iron, a purse, and milk from the porch, three days in succession.
Alderman MacGregor upheld the commissioner, stating that it was only to protect the commissioner's men, who had been accused of petty stealing.
"He specifically states that 1,000 licensed peddlers were responsible," Alderman Salsberg insisted.
"Have Little Respect"
Commissioner Bradley said that an East York township bylaw prohibited such operations and that many men had transferred their activities to the district east of the Don River and north of Gerrard Street.
"They are bold and have little respect for our inspectors," he declared.
"Are they licensed peddlers or strollers," asked Alderman Salsberg.
"Our inspectors have intercepted hundreds and found them to be licensed in many cases," the commissioner replied. He said the department had been co-operating with the police for four years to remedy this.
"If the police know of this and have taken no action, it does not speak very highly of your department's efficiency," Alderman MacGregor declared.
"The problem has been increasing and we are trying to keep it down," Mr. Bradley replied, declaring police regulations prohibited peddlers from being on the streets before 7 a.m.
On motion of Alderman Salsberg, it was decided that a deputation of licensed peddlers should confer with the commissioner to seek an agreement.
"No objection is found with legitimate licensed collectors," the commissioner said, but some licensed operators, and a large number who are unlicensed, pilfer through the garbage receptacles, removing waste paper, cartons, rags, bottles and metals." ♦