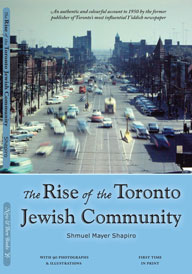 A 60-year-old manuscript titled The Rise of the Toronto Jewish Community has been found in the archives of Beth Tzedec Congregation.
Ralph Berrin, a volunteer in the Beth Tzedec Museum, brought the manuscript to the attention of Bill Gladstone, the publisher of Now and Then Books.
Gladstone identified the author as the late Shmuel Mayer Shapiro, the editor and publisher of the Hebrew Journal, Toronto's main Yiddish newspaper for half a century.
Shapiro stopped working on the manuscript about 1950. He died in 1958 and never saw it published.
Gladstone received permission from the author's daughter to publish the manuscript under the author's original title.
"When the manuscript was brought to my attention, I was excited and intrigued, recognizing it as an important historical document highlighting the strong immigrant and Yiddish quality of the early Jewish community," Gladstone says.
He told The CJN that he is "very proud" to be the editor and publisher of the book.
"I consider it a valuable addition to the limited material available about the early years to about 1950 of the Toronto Jewish community."
The Rise of the Toronto Jewish Community includes 90 old photographs and illustrations, some of which are quite rare.
The book offers a detailed account of the evolution of the local Yiddish press, Jewish labour unions, the garment industry on Spadina Avenue, synagogues and rabbis, the beginning of Jewish communal and social life in Toronto and landsmanshaft.
The book includes an afterword by Ben Kayfetz titled Recollections and Experiences of the Jewish Press in Toronto, written in 1984; a glossary of Yiddish and Hebrew terms and a sample page from Shapiro's manuscript.
Shapiro was born in Mozir, Russia, in 1887. He came to New York as a youth and began to study to become a rabbi. Feeling increasingly drawn to socialism, he left yeshiva and came to Toronto, where he organized a pioneering branch of the cloakmakers' union.
As a sideline, he began writing at $2 a week and became the editor of the Yiddish Zhurnal, or Hebrew Journal, a profitable daily Yiddish newspaper. He took over as publisher and remained at its helm until 1957.
A gifted orator, Shapiro was also a provincial justice of the peace and an honorary president of the Canadian Jewish Congress.
"The traces of the early history of our community are disappearing. This now compels us to search them out and record them," Gladstone says.
The Rise of the Toronto Jewish Community is available from www.nowandthenbookstoronto.com and at Israel's the Judaica Stores at both locations, Eglinton Avenue West and Clark Avenue.
For more information, e-mail info@nowandthenbookstoronto.com. ♦
This article first appeared in the Canadian Jewish News and appears here now courtesy of the author. © 2010 by Cynthia Gasner.
For an excerpt from The Rise of the Toronto Jewish Community, please click here.