From the Beth Sholom Bulletin, April 2011
Mickey and Frimette Snow speak exuberantly about their long attachment to Beth Sholom, the Toronto synagogue that they joined in 1951, two years after they were married.
Mickey, whose surname was shortened from Sosnowski, was born in Toronto in 1927 in a house on Euclid Avenue owned by Shapiro the haberdasher. "My father went into the hand laundry business when I was two years old and we moved to Pape and Danforth. I was married from there," he said.
Newly married at twenty-two, Mickey began his working life as a pharmacist until his new father-in-law convinced him to enter the construction trade. "I said, 'Okay, I'll give it a shot for two years.' So I started with four houses, then eight houses, and I took to it naturally. Before I knew it I was building twenty-five and fifty houses at a time. I built a thousand houses, maybe."
Soon the Snows moved into the home on Strathearn Road in which they would live for many years, raising a daughter and three sons there before moving to their present condominium on Bathurst Street. When their daughter was born "we decided we should join a shul," Mickey said. "We looked around and we decided on Beth Sholom, which was a young vibrant shul with Rabbi David Monson at its head."
The Snows came to admire Monson's warmth, his habit of personalizing the aliyot during services, his caring pastoral relationship with the ill and elderly, his unspoken good deeds, his tireless spiritual outreach to the community. It was Monson who officiated at all of the Snow family's bar mitzvahs and weddings.
"He was a lovely man, and absolutely amazing," Frimette said. "He knew everybody. You didn't have to be a member of his congregation, but he knew you and he knew your family."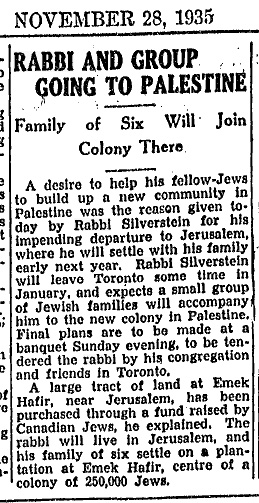 In fact, Frimette had known Monson even before joining Beth Sholom, since he at one time was a student of her illustrious grandfather, Rabbi Avrohom Shmuel Tzvi Hirsch Silverstein, known as the Beizetshiner Rabbi or the Vierzbeniker Rabbi.
Rabbi Silverstein died in Toronto in 1951 and was laid to rest at Dawes Road cemetery, Frimette recalled. "He was buried in a coffin made out of the shelves on which his holy books had rested. The streets were cleared on the day of his funeral. During the funeral procession there was no traffic allowed on Spadina from College to Dundas, and a thousand people marched behind the coffin to the Kielcer shul at Dundas and Huron."
In Beth Sholom's early years, the synagogue stood immediately adjacent to a gas station that was on the corner of Eglinton and Winnett, Mickey said. The shul owned the land but had leased it to the oil company. Eventually the lease ran out, the gas station was torn down, and the shul built its westward extension.
Look around that westward extension today and you will see the Snow family's name on numerous plaques itemizing their generous donations over the years. They funded the staircase that goes down to the banquet hall, for example, and on their 50th anniversary they dedicated a window — the westernmost window on the south wall — in honour of their late parents.
Mickey served on the shul's house committee for five years, and Frimette was active in the Sisterhood; she was the announcer for their annual after-dinner skits, and helped to find good speakers. They were also involved with the synagogue's once-popular cub and scout programs.
Mickey is the last charter member of the Forest Hill Lions Club that was founded in 1952 as the only predominantly Jewish Lions Club. Each year the club donates about $1,000 to $1,500 to Beth Sholom's Out of the Cold program.
The Snows have aided various causes in Israel as well, for example at Ben Gurion University, the Hebrew University, and the Jerusalem College of Technology. Mickey was the latter's fund-raising chairperson for two years and raised $5 million for the school.
There are no shortage of exuberant anecdotes when talking with the Snows. They are lively conversationalists and delightful storytellers who tend to finish each other's sentences. As the saying goes, there may be snow on the rooftop but there's still a lovely fire dancing in the fireplace. ♦
Newspaper clipping from Toronto Star, November 28, 1935, describes Rabbi Silverstein's plans to immigrate to Eretz Yisrael; ultimately he didn't stay and returned to Toronto.