As the son of the revered Toronto Rabbi Jacob Gordon and his wife Lifsha Gordon, Wilferd Gordon came to be respected and admired in his own right for his own profound learning, and he, too, came to exercise great influence in the Toronto Jewish community during its formative years.
Wilferd, or Bill, Gordon grew up in a home in which Jewish scholarship was sanctified. Fittingly, Wilferd Gordon attended the Hebrew Theological College of Chicago and also graduated from the University of Chicago in 1931. He then earned a BA from McMaster University and a law degree (1935) from Osgoode Hall. He was appointed as a Queen's Counsel in 1954.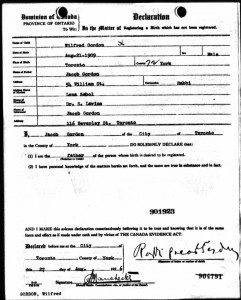 However, he must have seriously considered a career in the rabbinate, for he did actually serve as a rabbi in Toronto. According to an article by Alexander Brown in the Canadian Jewish News in November 1963, Wilferd Gordon "did occupy the pulpit at the McCaul Street Synagogue, 1935-6, 1942-44, and in the years 1945-46 as chaplain in the Royal Canadian Air Force."
Along with his thriving legal practice, Wilferd was an ace at business, and became involved in many investment, development, finance and realty companies including Cloverdale Park, Mashkon Ltd., Cloverdale Shopping Centre, Belhill Construction, Mountain Theatres, Yorkville Financiers, Metropolitan Trust and Tip Top Tailors.
In the early 1930s he began his long service on the board of the Associated Hebrew Schools of Toronto, and served as its president in 1954 following Rabbi Edward E. Gelber. Portraits of pioneers and builders that once graced the school walls included those of Wilferd and his father as well as Rabbi Gelber and his father, Moses Gelber.
Wilferd served on many other organizations in the community, including the Zionist Organization of Canada, the Israel Bonds, Mizrachi Canada, the United Jewish Welfare Fund, the YMHA and B'nai Brith.
In 1963 he was a member of two Toronto synagogues, Shaarei Shomayim and Beth Lida Forest Hill Congregation. That year he was honoured by the Jewish National Fund with a Negev dinner. He was the founder of Ner Israel Yeshiva College, Toronto's first yeshiva with secular studies. His wife, Balfoura, gave him two sons. He died in August 1994. ♦