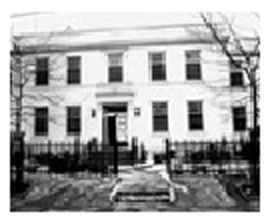 Although most of the old Mount Sinai Hospital on Yorkville Avenue is gone, a prominent architectural firm has agreed to restore the only wing of the hospital still standing.
The wing, built as an addition around 1928, was used as a nursing home after Mount Sinai moved to its present location on University Avenue in the early 1950s. Forlorn and boarded-up, it has not been used since the nursing home closed some years ago.
Along with the ruins of the old hospital, it is part of what Brian Andrew, a design partner in the Toronto architectural firm Webb Zerafa Menkes Housden, calls "a large hole in the fabric of Yorkville Avenue."
The company, whose accomplishments include Hazelton Lanes, Cumberland Court, Scotia Plaza and the CN Tower, has agreed to restore the facade of the old building as part of a much larger proposed redevelopment of the Yorkville-Scollard streetscape.
About a decade ago, the Toronto Historical Board designated the building as historically significant. "At that time, the owner wanted to demolish it," explains outgoing THB member Bill Greer. "We fought for the city to recognize it as an historical site, as the first separate Jewish hospital in the city of Toronto." City council accepted the recommendation.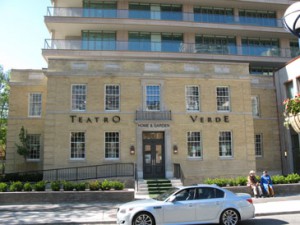 Painted a cream color, the facade features wrought-iron railings, large handsome windows and pilasters emblazoned with the Star of David.
According to Jane Beecroft, president of the Community History Project, an organization concerned with preserving city landmarks, the facade of the old Mount Sinai bears the only visible suggestion of a Jewish presence anywhere within the area bounded by Yonge, Ossington, Bloor and St. Clair streets.
"The facade is very important to us and we want to make sure it is preserved with complete authenticity," she says. "The only other indication of the fact that there were Jewish people living in this area were the race riots at Christie Pits."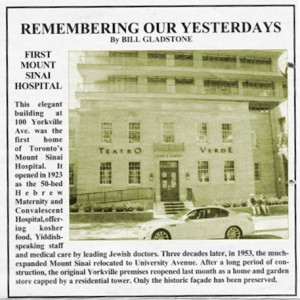 Beecroft says the facade is an important reminder of the "terrible bigotry" that Jews once faced in Toronto.
The Community History Project is seeking old photographs of the hospital that may aid the restoration. "We want to give copies of the photos to the Toronto Historical Board and to the architect, so restoration proceeds as it should with as much fidelity to the original as possible," says Beecroft.
Anyone with good detailed photographs of the old Mount Sinai is requested to phone Beecroft at the Community History Project, 515-7546. ♦
© 1992
Note: the facade of the old Mount Sinai Hospital on Yorkville Avenue has now been incorporated into a house and garden store, Teatro Verde, capped by a tall condo building.