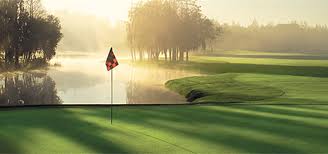 "A subtle dog-leg to the left": that's how golf pro Matt Hurley describes the 10th hole of Sandpiper — which is to say that it bends ever so slightly.
Our golf-cart is idling in a shady grove at Innisbrook, a posh 21-year-old golf resort in Tarpon Springs, on Florida's Gulf Coast. Its well-landscaped 1,000 acres are situated on lake-studded, gently undulating terrain that seems to contradict Florida's stereotypical flatness.
Innisbrook has three highly-rated golf courses, but it is not just for golfers. It is also a haven for fitness and nature buffs, with a tennis center, wildlife reserve, recreation center, three golf courses, six pools and various jogging and biking trails. But on this fine morning, golf's the thing, and Hurley, behind the wheel of the golf-cart, is discussing birdies, bogies, brassies, dog-legs and other features of the centuries-old stick-and-ball ritual long associated with Scottish kings, American presidents and country-club capitalists.
The last of a foursome of holidaying duffers from Toronto studies the unique geography of the 10th hole, then executes a well-rounded swing with near-perfect follow-through. The little ball goes sailing. So does a "divot" — a tiny patch of lawn. The golfer retrieves the patch of lawn from a few feet away and replaces it on the bald spot like a makeshift toupee. "Golf is a gentleman's game," says Hurley. "If you make a divot, you're expected to replace the turf so it grows back."
Further along the ribbonlike path, some of the 28 guest lodges come into view between some trees. Condo-style with kitchenettes, the apartments are pleasant and comfortable. The decor — which lies "somewhere between early Ivanhoe and late Frank Lloyd Wright," according to the New York Times — features wrought-iron trim, sturdy wooden doors and solid furniture.
After touring Innisbrook's three golf courses, we reach the ever-busy Golf Institute, where a lesson is literally "in full swing." Surrounded by students of both sexes, an instructor is demonstrating correct driving technique. As one might expect, the Institute offers intensive instruction in putting, chipping, pitching, bunker play and other aspects of golf. "We try to use a 'Keep It Simple' teaching system with the emphasis on having fun," says Hurley. "I don't think the game should require a lot of effort or cause a lot of pain, either physical or mental." In peak season, the rate for a four-day-three-night package involving the school is $975 per person, based on double occupancy.
Innisbrook's published rates for visits without the golf school vary considerably. The luxury four-day "Diamond Golf" package runs up to $369 per person-night while the minimal "Preferred Golf" plan requires as little as $99 per night for at least two nights. Visitors from Toronto may be interested to know that former Toronto Argonaut Dick Shatto is an Innisbrook sales rep. They may also wish to visit the neighboring town of Dunedin to observe the Toronto Blue Jays, winners of the 1992 World Series, in summer training. ♦
© 1993