From the Canadian Jewish News, January 22, 1989
TORONTO – Rabbi Samuel Sachs died recently in Santa Monica, California at the age of 96.
He was a spiritual leader of Goel Tzedec Synagogue from 1927 to 1946, when the congregation was housed on University Ave. (Goel Tzedec later merged with the McCaul St. Synagogue to become Beth Tzedek Congregation.)
The nineteen years spanned the pre-war and war-time era when Toronto Jewry was "growing up." For much of that time he was one of only two English-speaking rabbis in the city and much of the shtadlanut [leadership] and community deputizing therefore fell on his shoulders.
He had the ideal background to lead Goel Tzedec in this period of its transition when it was adopting tentative changes in the service and ritual that eventually were to lead to Conservatism but was not yet ready to abandon Orthodoxy.
Sachs had his foot in both camps. As a lad he had attended Radin, one of the classical yeshivas in Lithuania. Coming to the United States, he studied at the Isaac Eichanan Yeshiva and the Jewish Theological Seminary.
He had received his smicha [rabbinical ordination] in 1916 and in the ensuing ten years had served in Brooklyn, Detroit, and Portland, Oregon.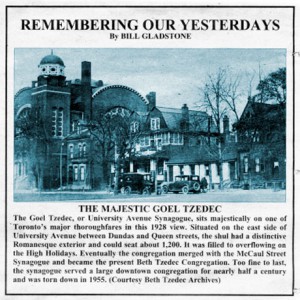 Sachs led the deputations to Mayor William Stewart to stop the flaunting of an inflammatory swastika banner during the Christie Pits riot of 1933.
The following year, when Canadian Jewish Congress was reorganized, Sachs took his place in the public relations committee which he chaired for a time. He was also active on the Jewish education committee, the German boycott committee and the arbitration committee.
Later, in the war years, he was chairman of the Intra-Jewish Committee — a body which undertook to enforce a kind of war-time self-discipline, among other things to see that Jewish merchants and dealers complied with the wartime restrictions on various supplies and provisions.
He acted as prison chaplain and this aspect of his duties came into prominent attention in 1930 when a Jew was arrested and eventually convicted of a murder charge. When war came, he was honorary chaplain to the Royal Canadian Air Force.
All this came on top of a full schedule of fulfilling his official duties of leading and guiding the spiritual, cultural, social and ritual functions of a large and growing congregation.
He left Toronto in 1946 because of a malady that was removing his voice leaving him unable to perform most of his rabbinical tasks. In California he partially regained this function and carried on certain rabbinical and teaching tasks. ♦