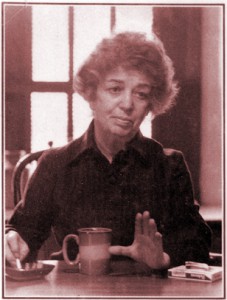 It has been 25 years since Canada's leading publishing house McClelland and Stewart brought out A Basket of Apples and Other Stories by Shirley Faessler, a book that quickly won critical acclaim for its lively and colourful re-creation of the world of the Yiddish-speaking Jewish immigrants in the Kensington Market neighbourhood of Toronto in the 1920s and 1930s.
Shirley Faessler did not publish her first short story until she was already a grandmother. It appeared in the Atlantic Monthly in 1967, certainly an impressive debut for an unknown writer. She followed with a series of linked stories that were published in various literary journals before M&S collected them and brought them out under one cover in 1988. She also published a reasonably good novel, Everything in the Window, in 1979.
Born in Toronto in 1921, Faessler grew up in Kensington Market, in a small house on Bellevue Avenue. She married a Gentile artist and became the proprietor of a large rooming house on Sherbourne Street that catered largely to actors; Chatelaine magazine described it as "the only theatrical boarding house in Toronto." A charming raconteur, she was the center of an artistic salon that drew many creative people around her including her friends Mavis Gallant, Alice Munro and Margaret Laurence.
Lily Poritz Miller, novelist and former senior editor for McClelland and Stewart, recalls Faessler as "an amazing woman. The power she exerted was phenomenal — she had hypnotic power over everyone, and everyone was absolutely enchanted with her. All of her entertainment took place in her very basic kitchen . . . but she would with difficulty move up to the second floor where she wrote on a little typewriter."
When Faessler died in 1997, the Toronto Star called her "indisputably one of Toronto's most gifted writers," and a flower garden was planted in her memory at Huron and College Streets. But alas, the roses and lilies bloom no more and Faessler has been all but forgotten. Now, 25 years since the appearance of A Basket of Apples, seems a good time to sing the praises of Faessler and her remarkable stories.
A Basket of Apples offers nine plump and rosy specimens, ripe for the taking. Six of the stories deal with the Glicksman family, the other three with a fast-living coterie of poker players, Jews and non-Jews, in a recognizable Toronto of the postwar era.
The Glicksman stories appear in chronological order and are narrated by Sarah Glicksman, Faessler's alter ego, a teenager in the earlier stories but more apparently an adult telling us the tales retrospectively in the later pieces.
Sarah Glicksman's Roumanian-born father is a peddler-turned-collector of accounts for Moe Blum's Bargain House Furnishings, where customers (except for the deadbeats) pay for goods in installments of $2 a week. Her mother died when she was a little girl and her father has gone to a matchmaker to find an acceptable mother for his children.
Sarah's stepmother comes from the tiny Byelorussian village of Chileshea, near Propoisk, and has so many loudmouth cousins swarming in and out of the house that her father disdainfully calls them "the Russian hordes."
These characters still have their roots deep in the Old Country and in the first story, Henye, a significant part of the action takes place in Chileshea. An arranged marriage has been made between the handsome Yankev — "tall, straight, a head of hair like a lion, a neck like a bull" — and Henye, a bent "nothing of a woman" with bony arms and legs, and "the size of a sitting dog." Despite Yankev's great misgivings and forebodings he cannot escape the match, not even after his twin brother offers out of pity to stand in for him under the chupah.
After their first three children die soon after birth, Henye goes to the grave of a jilted suitor and begs his forgiveness; then the children come, one after another, strong and healthy. The couple emigrates to Toronto. These are fully-formed shtetl characters transplanted to a big North American city, painted with all their glaring imperfections and ironies in the tradition of Isaac Bashevis Singer.
It's a delight to read Faessler's descriptions of these green immigrants adapting to life in Toronto, partly because many of us will recognize our own parents or grandparents who came here in the same era.
"They entrained for Toronto and were met at the station by a gang of people: landsmen, relatives, a junto of compatriots who had emigrated years before. The first few weeks were given over entirely to conviviality. Parties were given for them, dinners, suppers; days and nights were spent in nostalgic reminiscence. Their cousin Haskele (called behind his back Haskele the Shikker) toured the twins with their sons around the city in his car. He showed them Eaton's, Simpsons, the City Hall, Sunnyside, the parliament buildings, Casa Loma, the Jewish market on Kensington and the McCaul Street synagogue."
At first the Glicksmans live in an apartment above a synagogue on Bellevue Avenue. One day — a Jewish holiday, with a few worshippers lolling out front in their their prayer shawls — the police raid the apartment seeking the bootleg liquor that Yankev, one of the Russian hordes, has hidden there. When the police try to grill the stepmother, Sarah talks to her in Yiddish, and tells the police: "She says she can't give you a straight answer because her head is spinning with fright. She wants you to take the whisky and go before my father comes home."
This is only one of many dramatic moments in this lovely story that explores the complex and verbally abusive relationship between Yankev and Henye; it ends (or nearly ends) when she dies and he stands at her grave singing her praises and begging her forgiveness.
Because they feature many of the same characters from different vantage points and in different moments of time, the Glicksman stories colour each other, fleshing out the various portraits of peddlers and bootleggers, hunchbacks and business owners, and honest but out-of-luck decent folks struggling to make a dime through the Depression. The characters speak in the sublimely humourous cadences of their native Yiddish. The whole is definitely greater than the sum of the parts.
Focusing largely on the generation of prewar Jewish immigrants in Toronto, these powerful and highly enjoyable stories demonstrate that Faessler could write with all the sublime humour and dark irony of an Isaac Bashevis Singer. ♦
◊ This spring, Now and Then Books of Toronto has published a new edition of this book as A Basket of Apples: Stories by Shirley Faessler.
The Toronto Jewish Literary Festival presents the "uptown" launch of A Basket of Apples: Stories by Shirley Faessler, Sunday June 1, 2014, 3:30 p.m. at the Beth David Synagogue, 59 Yeomans Rd., North York. Featuring publisher Bill Gladstone discussing Faessler and her stories, and actor-playwright Karen Hines, the author's granddaughter, reading selections from her grandmother's stories. 
Kensington Market Historical Society hosts the "downtown" launch of A Basket of Apples: Stories by Shirley Faessler, Monday June 2, 6:30 p.m. (reception) for 7 p.m. (book launch), also featuring Gladstone and Hines. 
Books will be available for sale at both launches, or to order a copy online, please click here. A Basket of Apples: Stories by Shirley Faessler is also available as a Kindle ebook.