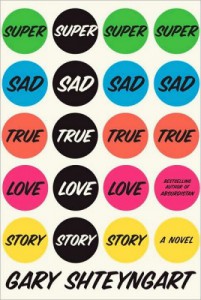 Gary Shteyngart, the Russian-born Jewish writer who emigrated to America in 1979 at the age of seven, spoke only Russian in his parents' home and did not lose his Russian accent until he was a teenager.
His third novel, Super Sad True Love Story, from which he is scheduled to read at the International Festival of Authors at Harbourfront on October 22, 2011, demonstrates not only how fluid he has become in English but also how fully he has reinvented the language for his own hilarious purposes.
Super Sad True Love Story is a dystopic novel of the near-future in which a near-totalitarian America is ruled by one party, the Bipartisans, featuring a powerful defense secretary named Rubenstein. As the country teeters on the brink of economic collapse, its soldiers are fighting a war with Venezuela and confronting hordes of low-income rioters in the streets of New York.
Advances in technology have made it possible for select people ("HNWI" — High Net Worth Individuals) below a certain age to sidestep the ageing process and death; and all citizens carry the remarkable apparat, which allows them to download information instantly about almost everyone and everything. It's mostly used to provide sexual data on passing strangers.
Our protagonist, Lenny Abramov, is a salesman who works in the Indefinite Life Extension department of PostHuman Services, a company whose main commercial product is immortality; it is headquartered in an old synagogue. At 39, Lenny is possibly already too old to be treated, but his prospects change dramatically after he falls in love with the much younger Korean-American Eunice Park, whose beauty re-invigorates him to the point where he becomes a candidate for extended life.
Super Sad is an epistolary novel filled with Lenny's diary entries and alternating passages of Eunice's lengthy e-mail correspondence with her parents, sister and others. Lenny confides that his dearest wish is "to trick her into aligning her youth with my decrepitude." Although she at first considers him a disgusting middle-aged nerd, she condescends to live with him and — surprise! — falls in love.
Shteyngart's writing is highly satiric and explodes with energy and inventiveness. The prose is littered with internet-age acronyms, most too profane to repeat: TIMATOV — "Think I'm About To Openly Vomit" — is one of the milder ones. Techno-neologisms and commercial internet-speak phrases ("GlobalTeens SuperHint: Switch to Images today! Less words = more fun!") are sprinkled on every page.
Instances of comic nomenclature include Welcome Back Pa'dner, the government's program for citizens returning home from abroad, and UnitedContinentalDeltamerican, which is the airline on which they might return; there is also a spectrum of vulgar product names. While the novel entertains, some may find that depth of theme and character have been sacrificed on the altar of cheap laughs.
Shteyngart may be compared to numerous writers: Nabokov for the wordplay, Bradbury for the science fiction, Huxley for the dystopic vision, Lawrence Sterne for the epistolary character development, Woody Allen for the humour. (Shteyngart once wrote an essay titled "The Mother Tongue Between Two Slices of Rye.")
In his satirical swipes the author targets reading itself, depicting it as a vanishing pastime. He paints a post-literate society in which books are disdained for their awful smell ("like old socks") and anyone seen reading one in public attracts impolite stares. Clearly, books are a thing of the past. "I've never really learned how to read texts," Eunice admits. "Just to scan them for information."
In ironic stories of this type, where humans sink to their most basic, animalistic selves and civilization seems on the verge of dissolution, some sort of remarkable character transformation or redemption is often in the wings. Super Sad makes good on this expectation: as usual, love is the ennobling factor.
Even more than its two predecessors — Absurdistan (2006) and The Russian Debutante's Handbook (2002) — Super Sad True Love Story has thrust Shteyngart onto centre stage in the world of American letters. And that's where he'll be on October 22 (8 p.m.) and again on October 23 (3:30 p.m.), at the International Festival of Authors. Please visit www.readings.org for information and tickets.
* * *
When They Come For Us, We'll Be Gone is American writer Gal Beckerman's riveting account of the epic struggle to save the nearly three million Jews who were languishing in the Soviet Union after World War II, unwanted yet forbidden to leave.
While some Jews trickled out of Russia in the 1970s — including New York-based author Gary Shteyngart and Toronto author David Bezmozgis — Beckerman shows how the movement to free Soviet Jewry led to a mass exodus in 1989 and forced human rights into the centre of American foreign policy. The book won a US Jewish Book Award.
Beckerman, Bezmozgis and Shteyngart are all appearing at the International Festival of Authors. The special track on Russian-Jewish themes is part of the "Koffler at the IFOA" programming presented by the Koffler Centre for the Arts in lieu of a 2011 Jewish Book Fair. It also includes Peter Filkins, Michal Govrin, Irwin Cotler and others, complementing an already luminous galaxy of Festival literary lights. See www.readings.org for details. ♦
© 2011