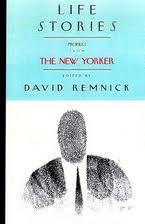 The New Yorker or Maclean's Magazine: which has perfected the art of the magazine profile to a higher degree?
Magazine lovers will recognize that the question is rhetorical and doesn't require an answer. After all, it was the New Yorker that invented, about 1927, the modern intimate journalistic essay we recognize as a magazine profile. The format quickly gained such a hallowed place in the magazine that it actually tried to trademark the word "profile" in the 1930s.
As a recent book — Life Stories: Profiles from the New Yorker — easily demonstrates, nobody does it better than the New Yorker. However, a recent anthology from Maclean's — Maclean's People: A Gallery of Canadian Greats — offers persuasive evidence that the art of the magazine profile has some worthy practitioners in Canada, too.
An inviting collection edited by David Remnick, Life Stories contains pieces that steadfast New Yorker readers will be glad to revisit. Kenneth Tynan's lengthy and masterful study of Johnny Carson first appeared in 1978: the writing holds up exceptionally well, even if the topicality does not. Ditto for John McPhee's immortal study of a geologist ("Travels in Georgia") and Calvin Tomkins's take on Philippe Petit, the man who once riveted world attention by walking a tightrope across the twin towers of the World Trade Center.
Many other treasures await first-time discovery: Lillian Ross on Ernest Hemingway, Truman Capote on Marlon Brando, Nicholas Lemann on George W. Bush, and John Lahr on Roseanne Barr — whom he called "the radical feminist disguised as a faux naif who would become an iconoclast the like of which had never been seen before on TV." Hyperbole? Certainly; but irresistible nonetheless.
Remnick's personal favourite is "Mr. Hunter's Grave," an obscure and charming word-portrait from 1956 of an obscure but charming man, George F. Hunter, by an obscure and charming writer, Joseph Mitchell.
That piece is a wonderful reminder of the essential eccentricity and creativity of the New Yorker profile, which often seems to snub our high-falutin' notions of what is deserving of attention. In condescending to focus upon obscure and seemingly commonplace subjects, such pen portraits often elevate themselves into the realm of literature. Some also seem to exude a country-bumpkin slowness in delicious contrast to the hectic pace of city life.
Wonderfully readable, Life Stories (Modern Library, paperback) should promise hours of joy to any inveterate reader.
Not surprisingly, Maclean's People: A Gallery of Canadian Greats is much more structured. It sequentially offers essays on political leaders, sports heroes, tycoons, entertainers, artists and writers. Only in the last category — "rogues, royals, heroes and heroines" — does it seem to allow a touch of genuine creative quirkiness to creep in.
That's not to deny that many of the pieces are very good; who can resist Richler on Richler, or Robert Fulford on Pearson, or Judith Krantz's early profile of Norman Jewison? Krantz later became a best-selling novelist; pity is, she caught Jewison at an equally incipient phase of his career. In journalism, as in life, timing is everything; and Maclean's spotlight does not always land upon its subject at the best moment.
Much of the recent pieces are written in the newsmagazine's colourful, adjective-heavy house style. In most cases, the subject matter carries the day.
The book delivers enticing introductory portraits of Queen Elizabeth II (1953) by Pierre Berton, Margaret Trudeau (1974) by June Callwood, and Princess Di (1981) by Carol Kennedy.
Pieces on historic figures like Nellie McClung, Billy Bishop and the Dionne quints are neatly counterbalanced with more recent figures like Margaret Atwood, Conrad Black and Shania Twain.
Profiles of Irving Layton, Wayne and Shuster, Gordon Sinclair, Prince Charles, Wayne Gretzky, Gordon Lightfoot and Morley Callaghan further demonstrate the variety of the collection. Edited by Michael Benedict, and with a foreword by Fulford, Maclean's People is available in hardcover from Viking. ♦
© 2001