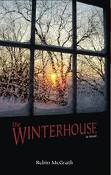 If truth were told, not all past winners of the fiction prize in the annual Helen & Stan Vine Canadian Jewish Book Awards have been outstanding reads. Once in a rare while a winner has been selected merely because it was the best of a bad lot and pickings were slim that year.
Fortunately, that's not the case with The Winterhouse (Killick Press), the novel by Newfoundland writer Robin McGrath that has been named the winner of the 2010 fiction prize, to be awarded at the Miles Nadal JCC on May 27.
The Winterhouse is a lovely book, full of memorable characters, sharp writing, and plenty of history, folklore and rustic charm. It is mostly set in a rugged and scarcely populated island in the British colony of Newfoundland in the fall and winter of 1820.
The story revolves around two characters: Rosehannah, a strong-willed and independent 14-year-old daughter who is left to fend for herself after her mother dies and her father moves away to cohabit with a widow; and Jacob Harris, a traveling Jewish sales agent who is shipwrecked upon his arrival from England and stays for the winter.
As the story begins, the father sells his store to the newcomer, who, much weakened from his ordeal, hardly notices as the man includes Rosehannah in the deal. The father hastily marries Rosehannah to the stranger so he can depart with a freer conscience now that his only child (step-child, actually) has a husband to care for her.
The subtleties of the developing relationship between the wise and capable Rosehannah and the quiet and gentle "mister" take a back seat to the demands that survival imposes upon them in their isolated fishing village along the ocean coast and the inland "winterhouse where they retreat to better endure the winter.
McGrath commands an awesome knowledge of fishing and boating, berries of the woods, how to skin and roast a variety of wild and domestic birds, and such diverse skills as snowshoeing, crafting metal objects in a home-made forge, and salting fish and game. To all of this she adds a dollop of humanity as she paints the various families on the island who live in a necessary symbiosis with each other. Sociability, neighbourliness and tolerance are not just expected; they are mandatory.
All in all, it seems an astonishingly authentic portrait of a rustic community, comparable, say, to A. J. Cronin's Welsh village in The Citadel, except much more rudimentary. The Winterhouse is made all the more lovelier by McGrath's language, which is salted with delicious old words and aphorisms.
The novel features, as an epistolary subplot, a modern correspondence between some genealogical researchers who are delving into the Harris family tree and into the history of the Jews on the Newfoundland "Rock." Through this expeditious device McGrath is able to introduce much fascinating material.
The Winterhouse is an impressive book that will appeal to patient readers willing to take the time to let a good book win them over. ♦
© 2010