Book Review: The Jewish Oil Magnates of Galicia (McGill-Queen's)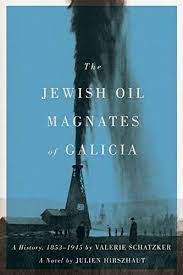 This 522-page hardcover volume combines two books in one. First, there is Valerie Schatzker's non-fiction scholarly history from 1853 to 1945 of the almost-forgotten East Galician Jews who became early "wildcatters" and oil barons in one of the world's first petroleum industries, concentrated in the region around Boryslaw, Drohobycz, Stary Sambor and other towns.
The second part features The Jewish Oil Magnates, a 1954 Yiddish novel by Galician Holocaust survivor Julien Hirszhaut, adeptly and expertly translated by Miriam Dashkin Beckerman of Toronto.
Early Jewish entrepreneurs refined the paraffin-like substance found in their fields into pure-burning Shabbos candles. That was the genesis of a century-long industry that continued through boom and bust cycles into the era of the Second World War, when Nazi occupiers, using Jewish slave labourers, squeezed out the last barrels for their war effort.
Galician Jews worked in the local oil industry from its beginnings to its slow decline after the First World War, when oil resources declined as borders shifted and minorities clashed. Through it all, Jews were pioneers in exploration, refining and marketing, and were prominent as technical, scientific and managerial leaders. They were also its grunt labourers. "In the early years of the hydrocarbon industry, most of the Jewish workers in Boryslaw resided outside of the town," Schatzker writes. "About 2500 Jewish male labourers and about 500 Jewish women worked during the week and returned home for the Sabbath." Impressive and thorough, her research reveals a lot about Galician Jewish society in general.
There is tremendous logic in combining these two unlikely parts into a whole, as each component illuminates the other. The texts are enhanced with numerous regional maps and rare illustrations of the oil fields. Schatzker, who also edited Kirszhaut's novel for publication, deserves credit for bringing this little-known chapter of Galician Jewish history to light.