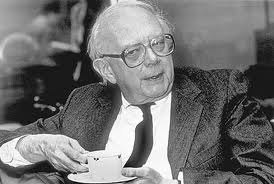 Irving Howe (1920-1993), the New York intellectual who was a zealous socialist all of his life, received what he called his fifteen minutes of fame from a remarkable scholarly achievement that seemed a world apart from his leftist political convictions. His book, World Of Our Fathers, which was published in 1976, became a national bestseller and gave Howe a new literary stature. Henceforth he would be regarded as much more than an editor and contributor to marginal leftist journals like Dissent (which he co-founded in 1954), Commentary, Partisan Review and The New Republic.
Roughly three decades since its first appeared, World Of Our Fathers remains one of the best and most thorough studies of the immigrant culture of the Jews of the Lower East Side and, by extrapolation, their co-religionists in Toronto, Montreal and other large cities. Its sweeping survey of the shared urban universe of the Jews who came from the shtetls of Europe to New York reveals an astonishing level of research, methodically conducted over many years. One gets the impression that Howe had read the autobiography of every Jewish-American immigrant who had ever set pen to paper, as well as every issue of the Yiddish Forward and other local Yiddish newspapers from the late 1890s onward.
The book opens with a simple, yet sparkling, historical insight: that the year 1881, with the political tumult that followed the assassination of the Russian Tsar Alexander II, was a major turning point in Jewish history as decisive as the fall of the Second Temple or the expulsion of the Jews from Spain. Fleeing the pogroms, the earliest refugees at Castle Garden had little sense that a critical mass of Jews would soon follow and make possible a rich and vital Jewish life in New York. But soon Ellis Island, which replaced Castle Garden as a landing centre, was processing thousands of Jewish immigrants every day.
The ordeal of steerage, the rise of the tenements, the slums and the sweatshops, the cheders and the cafes, the unions and landsmanshaft organizations — Howe inspected each aspect of immigrant life with the wide array of sources at his disposal. Possessing a commanding knowledge of Jewish arts and literature, he offered astute assessments of the contributions of key writers and poets from Abraham Cahan to Morris Rosenfeld, as well as the colourful demi-monde of the Yiddish Theatre centered on Second Avenue. These sections reflect such scholarly breadth that they might easily have stood as independent works.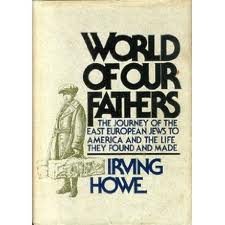 In the section on Jewish Labor, Jewish Socialism, Howe noted that, for many, leftist politics and union activism were merely ways of Americanizing the Jewish worker at a time when the factory boss reigned supreme and the workplace was in desperate need of humanizing reforms. It is to his credit that Howe did not allow his political radicalism to taint his prose. Strangely enough, he seemed able to compartmentalize his Marxist orthodoxy, which he kept apart from his aesthetic sense of Jewish culture as stringently as an orthodox Jew separates meat and dairy. But perhaps that's a poor analogy: keeping kosher was of little importance to Howe, a secular Jew who identified with the Jewish world primarily through the prisms of history, culture and the Yiddish language.
Howe was born Irving Horenstein in New York in 1920 to immigrant parents who ran a small grocery store. At 13, during a bout of scarlet fever, he sent his father to the public library to borrow the complete works of Keats, Milton and Wordsworth, which he read with an intellectual fever that never abated. As he mastered English literature, he also read voraciously in Yiddish, as well as every Marxist and Trotskyist tract he could find. He became so passionately committed to socialism and to helping the oppressed poor that Sherwood Anderson's reports about striking North Carolina textile workers "brought tears of indignation to my eyes," he would recall. A leader of the Trotskyist group at City College, he stood on tables and made fiery speeches about the Spanish Civil War.
Yet, his appreciation of good prose and poetry remained a thing apart. Literature, he explained, added a non-political dimension to his world-view and gave him "a taste for complication, which is necessarily a threat to the political mind." As one of the famous New York intellectuals — a term he invented — he argued that literature existed in a province outside of politics and should not be narrowly judged according to the party line of the Stalinists; he abhorred the philistine perception that literature was merely a convenient vehicle for political content. In various essays on modernist literature, he called for a wider, non-denominational view of literature that superceded political ideology.
Part of Howe's apartness, of course, was his love and encyclopedic knowledge of Yiddish literature, a factor that certainly spurred his return to his Jewish identity. If he has claim to another fifteen minutes of fame beyond World Of Our Fathers, it is because he commissioned the translation of an Isaac Bashevis Singer story from Yiddish into English, making the once-obscure Singer — who would win a Nobel prize and become the world's most famous Yiddish writer — accessible to an English-speaking readership for the first time. The story was Gimpel the Fool and the translator was Saul Bellow.
Beyond his role as a socialist theorist, Howe fulfilled a vital function as a cultural anthropologist, mining the riches of Yiddish culture and literature, and presenting the gleaming ore to American readers. In A Treasury of Yiddish Stories, the landmark anthology that he co-edited with Eliezer Greenberg in 1954, the two made works by Singer and other Yiddish writers easily accessible to mainstream readers for the first time. Bristling with insights and intelligence, the Treasury's long introductory essay remains required reading for students of Yiddish literature to this day.
Howe's dual talents as cultural anthropologist and literary critic reached a peak in his massive (more than 700 pages) masterwork, World Of Our Fathers. Usually celebrated as a tough political fighter in a regional intellectual arena that he shared with the likes of Norman Podhoretz, Dwight Macdonald, Alfred Kazin, Mary McCarthy and others, Howe seemed content to put aside his boxing gloves and offer the reader a gentle, inviting bath of sweet nostalgia.
Like Fiddler On The Roof, the musical that had premiered only a few years before, World Of Our Fathers offered an unapologetic look backwards in what McLuhan called the rearview mirror. Also like Fiddler, it signaled to a fully integrated generation of American Jews that they need no longer turn a cold shoulder on the past; that it was safe to reclaim their collective shtetl and immigrant background without fear of being marginalized as "greeners."
Not surprisingly, the first Jewish genealogical society of the postwar era was founded in New York about a year after World Of Our Fathers was published, an era that also saw the arrival of the first major works on Jewish genealogy — Dan Rottenberg's Finding Our Fathers (1977) and Arthur Kurzweil's From Generation to Generation (1980). World Of Our Fathers deserves to be remembered as a pioneering study that helped to kindle the current mass interest in our Jewish roots. Lauded by the New York Times Book Review as a "great book" when it first came out, it deserves to be remembered as such, and remains no less impressive upon second reading. ♦
© 2008