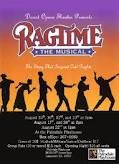 Last week in Toronto (1996), arts journalists were given an exclusive first peek at four stage numbers from Ragtime, the musical-in-progress that Livent Inc. is developing from the best-selling 1975 novel by E.L. Doctorow. Given that the show isn't set to open at North York's Ford Center until next January, the pieces seemed surprisingly polished. From both a musical and lyrical point of view, the compositions seemed strong, the voices solid, the choreography tight.
Afterwards Drabinsky and Doctorow and key members of Livent's dream-team for Ragtime, sat at a long table on stage answered questions. "The musical was Drabinsky's idea," said the novelist. "When he came to me I could tell that he really understood the book and had a passion for it. By the time we had our next meeting I could tell that he had read the book several more times than I had."
Doctorow freely admitted that he didn't like the movie version of Ragtime: "I liked the first ten minutes but it went on for 2-1/2 hours." Was he, therefore, "scared" that his book was now being adapted for the stage? "No, not at all," he said. "I think what has happened to me also happened to Bernard Shaw and William Shakespeare. So I'm quite content."
The Ragtime dream-team includes director Frank Galati, choreographer Graciela Daniele, playwright Terrence McNally and songwriters Lynn Ahrens (lyrics) and Stephen Flaherty (music).
But it was Drabinsky who held the spotlight the longest. As he revealed, Livent is mounting a new production of the Rodgers and Hart musical Pal Joey. Fundamental to this project, Livent has acquired rights to the entire Rodgers and Hart catalogue.
The Toronto-based company is also developing a musical adaptation of the 1957 film noir classic The Sweet Smell of Success and an original musical, I Love A Parade, to be directed by Harold Prince with a book by Alfred Uhry, award-winning author of Driving Miss Daisy.
Still, Drabinsky seems most excited by his current project. "Without a doubt, Ragtime is the richest creative experience of my career," he said. ♦
* * *
THE MAKING OF RAGTIME, THE MUSICAL
It was the music of something beginning … and it was the music that E. L. Doctorow listened to as he began, in 1972, to write the story that would become the best-selling novel Ragtime. High-stepping and syncopated, the music of the ragtime era, as composed by Scott Joplin and others, "was a perfect metaphor for the age, when all of America was finding a new sexy rhythm," Doctorow tells us.
"A modern sensibility was forming that scandalized the old. There were new ideas, bold ways of thinking and behaving, ever increasing technological changes, and above all, in a country marked by the great wealth of a few, and the terrible poverty of many, new and strident demands for social justice. In fact there were Negroes, there were immigrants, and they could not be ignored."
This is Doctorow, writing in the liner notes of the new CD release, Songs From Ragtime, The Musical. The CD is a lush and generous prelude to the Livent Inc. theatrical production that opens at North York's Ford Centre Dec. 8 (previews begin Nov. 19) for a run of at least 16 weeks. The musical is scheduled to open on Broadway in December 1997.
Set in and around turn-of-the-century New York, Ragtime is a panoramic tale of three families whose lives intertwine with a parade of celebrities: auto magnate Henry Ford, illusionist Harry Houdini, capitalist J.P. Morgan, radical anarchist Emma Goldman and sex symbol Evelyn Nesbit. Doctorow, dismayed that the 1981 film adaptation dropped many of these characters, was reluctant to allow a live musical version until Livent chair Garth Drabinsky pledged to put all of Ragtime's characters on stage.
After playwright Terence (Kiss of the Spider Woman) McNally delivered a 60-page treatment of the novel in mid-1994, Livent invited 10 pairs of composers and lyricists to write four songs, based on McNally's treatment. The winners were lyricist Lynn Ahrens and composer Stephen Flaherty. Three of the songs they wrote for the try-out were so strong that they survived into the production.
McNally, Ahrens and Flaherty finished a first draft in August 1995. A week later some 34 actors, under the tutelage of director Frank Galati, began to workshop the production at York University. "The script was an amoeba, changing shape constantly," recalls Marty Bell, Livent's creative co-ordinator. By this time, some key casting decisions had already been made: Audra McDonald as Sarah, Brian Stokes Mitchell as Coalhouse Walker, Jr., Camille Saviola as Emma Goldman.
As more cast and creative personnel joined the work-in-progress, several private and semi-public performances were given, including a reading last December attended by Doctorow and his wife. "Edgar (Doctorow) had warned us early on that he was going to be as tough on this work as he was on his own," Bell reports. "But at a dinner for the company at a Chinese restaurant … he was quite visibly moved. He had notes for us, sure. But his overall response was that he was honored by McNally's faithfulness to his conception and thrilled by the appropriate yet original musical sound that Ahrens and Flaherty had provided."
Last July, 82 actors and musicians crammed into a downtown studio to record a CD of selected highlights from the score. If it were an old-fashioned vinyl LP, my copy of Songs from Ragtime would be quite scratchy from playing by now. To my ears, it's a masterpiece of breathtaking syncopation, emotional depth and poignant Sondheimian irony. Even in advance of its theatrical opening, I have a hunch that Ragtime The Musical is going to be an explosive hit.
The story of Ragtime bears particular relevance for North American Jews, since it begins where Fiddler On The Roof leaves off, with Tevye's children and other shtetl residents boarding ships for America. Ragtime tells what happens to such immigrants, as well as the Negroes, in the great American melting pot. ♦
The Premiere of Ragtime
Theatre history was made last Sunday when the musical Ragtime made its world premiere at the Ford Centre for the Performing Arts, igniting the 1,900-person audience into repeated bursts of thunderous applause and cries of "Bravo!"
Livent's musical treatment of the E.L. Doctorow novel opened with a bang and kept up its enthralling pace for two and half hours, with one show-stopping number after another. It was fireworks all the way through, without a single weak moment or special effect that was anything less than dazzling.
One came away with the sense that composer Stephen Flaherty and lyricist Lynn Ahrens have crafted a theatrical landmark as durable and uplifting as the Statue of Liberty, and one whose light may shine for generations. It's the best big-budget musical this reviewer has seen.
Like the famous statue, Ragtime illuminates the American ideals of equality and brotherhood of all. However, it also casts a light on America's dark underside, showing the tragedy that unfolds after the crew of a Manhattan fire station victimize the successful black pianist Coalhouse Walker Jr. (Brian Stokes Mitchell) as he passes in his Model-T Ford. When Coalhouse chooses to fight for his trampled dignity rather than practice the forbearance advocated by black leader Booker T. Washington (Richard Allen), the fire brigade's spark of racial hatred kindles a shockingly violent conflagration.
The story is set in a turn-of-the-century America that was receiving an unprecedented influx of immigrants to its shores, even as it was largely denying social justice to the descendants of liberated black slaves. Highlighting further injustices, Ragtime depicts the American melting pot as an industrial crucible in which heartless moguls like J.P. Morgan and Henry Ford oppress the laboring class.
"America is the land of opportunity — but only if your name is Mr. J. P. Morgan!" shouts the radical anarchist Emma Goldman (unforgettably portrayed by Camille Saviola) during the number The Night That Goldman Spoke At Union Square, one of my favorites (I have several).
Critical to the plot, historical figures like Ford, Goldman, the illusionist Harry Houdini and the sex goddess Evelyn Nesbit sometimes seem to parade across the stage like eerie phantoms, intermingling with Coalhouse and his girlfriend Sarah, and two families caught in the whirlwind of the changing times. The family members are known only by their generic names — Father, Mother, Mother's Younger Brother, Little Boy, and the Jewish immigrant Tateh and his daughter, the Little Girl — as if their personal identities likewise transcend history into myth.
Terence McNally, who wrote the theatrical "book," utilized an ingenious device in occasionally letting some characters narrate their own stories in the third person. Reminiscent of a Greek chorus, the technique allows for maximum narrative compression while preserving the fabric of the novel to a degree that will satisfy its many readers. So well-conceived and self-aware are the characters that they sometimes seem like ghosts caught in the unrelenting machine of fate, helpless to do anything but narrate their own lives.
The sets, costumes and lighting seem equally geared to preserving the lyricism and dark gothic romanticism of the novel and, one might almost say, of the period itself. Paradoxically, the stage imagery is sweeping yet economical, and conveys a sense of unceasing movement. We are treated to lush visions of two-dimensional stereoscopic scenes that jump into three-dimensional life, ships passing with lights aglow in New York harbor, the cage-like welcome of immigrants to Ellis Island, the simple grandeur of train stations in New York and New Rochelle, and a pastiche of picture-postcards of Atlantic City, all amidst an almost non-stop cavalcade of shadows, silhouettes and illusions.
The exceptional cast is headlined by Brian Stokes Mitchell as Coalhouse Walker Jr. and Audra McDonald as Sarah, who, though she dies in the first act, is so good that she returns as a phantasm in Act Two to sing Sarah Brown Eyes with Coalhouse. Peter Friedman is Tateh, Mark Jacoby is Father, and Marin Mazzie is Mother, whose rousing closing number, Back To Before, is as strong as the character she has become. Steven Sutcliffe is so perfect as Mother's Younger Brother, and such a wondrous counterweight to Saviola's brilliant Goldman, that one wants to congratulate not only these outstanding performers but the casting directors as well.
Thanks to Frank Galati who directed and Graciela Daniele who did the musical staging, there isn't a wasted movement or ambiguous gesture anywhere. Indeed, so many creative forces have fuelled Ragtime's syncopated turbines that one is tempted to list them all — or, failing that, simply to exclaim "Praise the maker!" and congratulate Livent chief Garth Drabinsky for bringing these remarkable talents into tandem. This amazing production, bursting with life and integrity, goes a long way to forging Garth's reputation as the Canadian Ziegfeld. Broadway, look out. ♦
© 1996