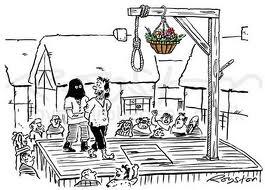 Well over a century after the fact, there can be little pain in admitting that a distant cousin of mine, born to wealth and social status, was the subject of a spectacular bankruptcy proceeding in London, England in the 1860s.
An account of his failed business affairs appeared in the London Times. I suspect the report must have horrified his family, for it amplified the man's ruin; but I confess that I was fascinated to read it. I have no later intelligence regarding the fate of my relative, but I hope he ended up on the positive side of the ledger.
Such a newspaper account might serve to corroborate the existence of someone who would otherwise have vanished into the fabric of time; for that reason it usually makes a welcome addition to a family history. Criminal court records, stories from the Police Gazette, even Wanted posters may likewise increase our knowledge of a relative who did not always walk on the sunny side of the street.
Many people avoid genealogy because they imagine they will find horse thieves, rogues and jailbirds perched in the leafy bowers of their family trees. Genealogists sometimes joke about creative ways in which to bowdlerize the truth when an uncommon villain appears in a family history that has been lovingly prepared for tender darling children and grandchildren.
What is there to say about a great uncle who was executed in the electric chair? Many genealogists would agree that a pinch of tact is required; some would go further and call for the spin-doctors.
"Great Uncle Hymie," they would write, "occupied a chair of applied electronics at an important government institution, was attached to his position by the strongest of ties, and his death came as a great shock."
The following advice, on How to Be Creative with Troublesome Kin, recently circulated on the internet. It referred to a great great uncle, whom we shall call Solomon Starr.
Convicted of stealing horses, Solomon Starr was sent to penitentiary in Edmonton in 1885, but escaped in 1887. While at large, he robbed the Trans-Canada Railway six times. Apprehended by a team of Pinkerton detectives, he was convicted of train robbery and hanged in 1889.
The tale puts a fairly ugly blot on the family escutcheon, does it not? But according to the internet source, our great great uncle's story can easily be embellished and made respectable, as follows:
"Solomon Starr was a famous cowboy in the territories of the great Canadian North West. His business empire grew to include acquisition of valuable equestrian assets and he had intimate dealings with the Canadian Pacific Railroad.
"Beginning in 1885, he devoted several years to service at a government facility, finally taking leave to resume his dealings with the railroad. In 1887, he was a key player in a vital investigation run by the renowned Pinkerton Detective Agency.
"In 1889, Uncle Solomon passed away during an important civic function held in his honor when the platform upon which he was standing collapsed."
In all seriousness, the truth, judiciously doled out in little or large amounts, is usually the best policy. ♦
© 2001