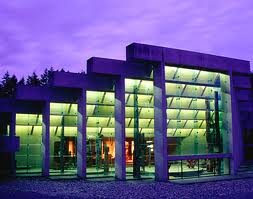 Situated on a dramatic windswept cliff overlooking Vancouver's Georgia Strait and the snow-capped peaks of the Coast Mountains, the University of British Columbia's Museum of Anthropology pays homage to the art of the Northwest Coast First Nations in several important and pioneering ways.
The museum, which opened in 1976, was designed by internationally renowned Canadian architect Arthur Erickson and is considered one of his signature buildings. The design utilizes a series of huge receding cement frames, evoking the cedar post-and-beam method of construction of traditional Haida longhouses. Forty-five-foot-high glass walls introduce as much natural light as possible while preserving the breathtaking view.
Set against the sweeping landscape of water and mountains and sky, the magnificent totem poles and statues of mythological beings on display seem to come alive in the monumental Great Hall, whose muted gray and brown tones do not interfere in the dynamic interplay between art and nature.
"The museum should reassure our Indians of the greatness of their culture, and perhaps give them back some of their dignity and confidence," the Vancouver-born Erickson has explained.
The Museum of Anthropology pioneered a new way for institutions to look at Native art, says its director, Dr. Ruth Phillips. "Typically, you would find these objects displayed in natural history museums that also presented botany, geology and zoology," she said. "Very often they were presented as anthropological artifacts because they held information about cultures or nature — but not because they were beautiful to look at."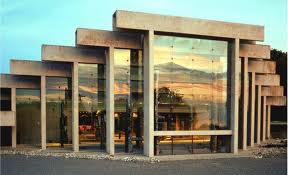 The museum, which holds some 25,000 objects in its ethnographic collections and about 80,000 artifacts in its archaeological collections, has borrowed a mode of perceiving non-Western art that "goes back to the early modernist painters at the beginning of the 20th century," Phillips said. "Artists like Picasso, Braque and others promoted the idea that African and Oceanic carvings were great art, not just scientific specimens. It took longer for North American Native art to be appreciated that way."
The museum also broke new ground when it commissioned Haida artist Bill Reid to produce the immense cedar sculpture, Raven and the First Men. The celebrated work, which Prince Charles unveiled in 1980, depicts a Haida creation myth in which the enormous raven, perched atop a giant clamshell, attempts to coax out the first Haida from within. While Reid's Raven now occupies a softly-lit rotunda, his two pieces Bear and Sea Wolf are displayed in the Great Hall, and several of his smaller works are shown in the Masterpiece Gallery and elsewhere.
Like the raven bringing the first Haida into the world, the museum was instrumental in bringing new Northwest Coast art into existence at a time when it was commonly and erroneously believed that regional Native artistic traditions stretching back centuries had died out. "In fact, Native people were continuing to carve in their communities," Phillips said. "This museum gave a certain prominence to that fact and made non-Native people interested in commissioning new works. We showed people that it was still a living tradition."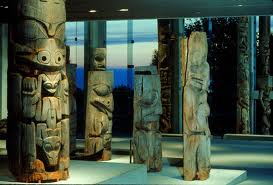 While the Museum of Anthropology is best known for its collection of Northwest Coast Native art, including ceremonial masks, it has an eclectic acquisitions policy and the largest number of objects in its collections are actually from Asia. It boasts, for example, the world's largest collection of old Cantonese opera costumes and accessories, which were acquired when the Jin Wah Sing Musical Association of Vancouver decided to craft new lighter costumes to replace the exquisite albeit unwieldy originals that had been brought from China. Highly colourful and made of heavy silks and linens, some of the old costumes were embroidered with mirrors and made to be reversed to show another complete costume underneath.
Other notable collections in the museum include African art, art from India, and the Walter Koerner collection of European ceramics, the focus of a special wing. Some 600 pieces, dating from the 15th to 19th centuries, are displayed in the Koerner Ceramics Gallery.
Original curator Audrey Hawthorn and UBC anthropologist Harry Hawthorn were the husband-and-wife team who founded the museum about 1949 and began making extraordinary acquisitions from around the world on a shoestring budget, eventually overseeing the move from their crammed university premises into the landmark Erickson building before retiring.
The architect agreed with the Hawthorns that a museum should not be an "iceberg," showing only a small part of its holdings, and so devised an extensive system of visible storage galleries for this, the largest teaching museum in Canada. More than 15,000 objects are stored under plexiglas in shelves, drawers and cabinets, each with accompanying documentation.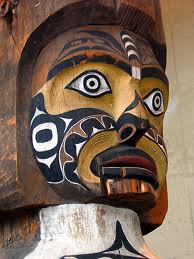 Besides the permanent collection, several temporary exhibitions are currently on view. Written in the Earth provides insight into the Coast Salish people (until Dec. 31). From Under the Delta features rare preserved wood items retrieved from the lower Fraser, up to 4,600 years old (until April 1, 1998). Early Chinese Art from the Victor Shaw Collection opens Dec. 2 and runs through the spring.
The museum, which receives about 170,000 visitors per year, has been described as "the only world-class museum in Vancouver," and David Brewster in his Best Places travel guide called it "one of the finest small museums in the world." In 1989 it was awarded the prestigious title of "Tourist Attraction of the Year — Canada." It celebrates its 50th anniversary in 1998.
The UBC Museum of Anthropology, 6393 N.W. Marine Drive, Vancouver. ♦
© 2002