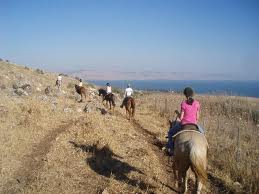 Yehudi Avni has a dream — to mount one of the 20 horses at Vered Hagalil, his horse ranch and guest farm north of the Sea of Galilee, and ride around the lake and through the valley to Amman, the capital of Jordan.
"When peace will come, and if it will be a real peace, then I would like to do it," says the Chicago-born proprietor of Israel's oldest and still one of its finest establishment for equestrian pursuits.
Until true peace comes, Avni and other riders at Vered Hagalil must content themselves with the beautiful trails through the Galilee and neighbouring regions. Riders, accompanied by guides, may venture from the 40-acre ranch for as little as an hour or as long as a week or more.
A popular excursion is the ride around the Sea of Galilee — known also as Lake Kinnereth — which takes a full day. The area is known for its outstanding scenic beauty and for its many sites of historical and archaeological importance.
"If they choose, people can ride for half a day, then sleep outside, and finish the ride the next day," Yona Avni, Yehudi's wife, explains. "We give them dinner at night and bring them breakfast in the morning." The cost of a full-day ride, accompanied by a guide, is $70 (US).
Until the stones of the intifadah began flying, parties of riders used to leave Vered Hagalil regularly for Jerusalem, staying away for a week at a time. Now the most adventurous and hardy riders must content themselves with the five-day trek to Haifa. Not all the ranch's clients are foreigners. Israelis are great riding enthusiasts, the Avnis claim, noting that many local children are enrolled in their Western-style riding school.
Approaching 70 years of age, Yehudi Avni grew up in the old west side of Chicago and came as a volunteer to Israel in 1949. "I felt very much at home here and decided to stay," he says. He met his wife on a kibbutz, and together they established Vered Hagalil — the name means Rose of the Galilee — in the early sixties.
Now Vered Hagalil boasts a stable full of horses, including many fine Arabian quarter-horses, and 18 guest cabins of varying sizes. Prices for double occupancy on weekends range from $50 for a small bunkhouse to $119 for a cosy cottage-apartment with kitchenette. Breakfast is included with all stays, and additional meals may be enjoyed in the restaurant (not kosher). "I think we were the first place in Israel to offer water to guests when they arrive," boasts Yoni.
Yehudi is proud of his Chicago roots, and still maintains strong connections to the city by another lake, which he visits about every three years. Astute visitors may detect various items of Chicagoan memorabilia at Vered Hagalil, such as street signs, and the guestbook contains the signatures of many prominent members of Chicago's Jewish community.
"Horses were always my hobby," Yehudi reminisces. "Ever since I was a little boy, I used to skip school and go to the stables. I read all of the Zane Grey books."
Israel, being so compact, offers riders dramatic changes of scenery within relatively short riding distances. "You can ride through various regions of the country in a short time," he says.
"The only real dangerous thing in Israel are the drivers. Apart from that, Israel is in almost all aspects — homicides, robberies, etcetera — really a very safe country to be in."  ♦
© 1999