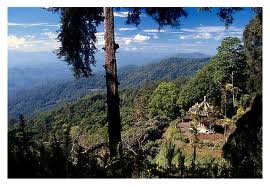 The mini-van had made it safely up the red mud slopes and Sam, our well-spoken Thai guide, said we'd get back okay provided the heavens didn't burst.
"If it rains, the road will become a sea of mud," he said indifferently. "We'd get stuck for sure. Maybe even slide off a cliff."
The sky was thick with monsoon clouds as we ascended this forested foothill of the Himalayas, in the northern Thai province of Chiang Mai.
We reached the Hill tribe village safely. It was no more than a clumsy conspiracy of huts and shacks, surrounded by dense jungle, filled with pigs, chickens, hanging laundry (washed) and welcoming children (unwashed) who became our honor guard as we advanced unhindered into their universe. Their fathers were out in the fields; their mothers, busy with chores domestic.
The children kept pace as Sam led us up a muddy trail. Crouching, we passed through the doorway of a thatched hut, then sat upon a few low rocks in the dark interior.
A fortyish resident from the provincial capital of Chiang Mai, Sam seemed accustomed to bringing tour groups here. How much he paid for the privilege, I did not ask. Treating the hut as a makeshift classroom, he described village life in some detail as the children waited for us outside.
We were in a Karen village, he told us, explaining that the Karen were the largest of at least ten distinct tribes with a total population estimated at 550,000. Known for their colourful dress and semi-nomadic habits, most Hill tribes originated in Tibet, China, Laos and Burma about two centuries ago.
Many of the Karen, however, had reached Thailand in the recent era after fleeing government persecution in Burma. The few hundred at this particular settlement grew rice, vegetables and livestock. Sam said they were not involved in the opium production that sustain many of their fellow tribesmen in the notorious Golden Triangle, a short distance to the north.
Living in remote mountainous reaches, most Hill tribe people remain apart and unassimilated from modern Thai life. As we were to discover, some commonly descend to Chiang Mai and other cities, where they sell homemade goods at the local markets.
Emerging from the hut, we strolled through the primitive settlement. Water and electricity had arrived only months earlier. By supplying these utilities, the Thai government intends to encourage permanent settlement and to discourage the nomadic practice of "slashing and burning" the landscape, which has caused serious damage to the mountain ecology.
The village women presented blankets, tablecloths, beaded purses, cloth bags, straps, headbands and other homemade wares. Bartering generously, we still walked away with unique goods at prices unheard of in North America.
Afterwards, we were invited into a sparsely furnished hut, where the only noticeable consumer goods were a few old pots and pans. There was a small fire in the middle of the floor and a woman with an infant at her breast was sewing.
We rolled down the mountain in a gentle monsoon mist, returning safely to civilization. More than anything, it was the "otherness" of this remote world that made it seem so exotic, so different, so memorable. ♦
© 1993