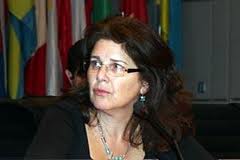 Toronto film producer-director Ric Bienstock says that she missed many comforts of home when she shlepped all over China, India and Egypt to make a series of three hour-long TV documentaries featuring Penn and Teller, a celebrated pair of stage magicians from Las Vegas.
But the veteran filmmaker, whose previous works include an acclaimed documentary on Zaire's Ebola outbreak and a segment of the Emmy Award-winning documentary The Plague Monkeys, said that traveling with Penn and Teller was a culturally enriching experience despite the various deprivations encountered.
Bienstock directed the first hour-long episode based in China, and produced the other two episodes, which are set to premiere under the title Penn and Teller's Magic and Mystery Tour on CBC television on Oct. 2, 9 and 16 (2001). A British-Canadian Yorkshire-Associated Producers co-production, the series is slated for repeat broadcast on the Learning Channel later this year.
Essentially, the programs focus on the two flashy American magicians as they seek out their professional colleagues in the three countries, and learn the secrets of some magical tricks that may be thousands of years old.
The China segment features acrobatics, juggling, street magicians in remote villages, and an astonishing mask trick that requires such dexterity that it remains seamless even when replayed in slow motion.
Throughout, the oversized Penn projects the persona of a wise-cracking, happy-go-lucky narrator with the comic sensibility of a David Letterman, while his considerably smaller partner, Teller, plays the silent sidekick, a sort of Harpo Marx of the magic set.
Bienstock said it took a year to set up the itinerary for the shoot, which ventured into numerous remote rural locations.
"We did as much research as we could here, and then we went there to do more research," she said. "We got as many leads as we could in advance, and then we got even more on location. I traveled ahead of Penn and Teller. There was a lot of planning on this trip, a lot of moving around."
Although the company ardently sought out exotic forms of local magic, their taste in cuisine was considerably less experimental. Bienstock made sure to bring a supply of canned Chinese food from Canada.
As a Canadian, she said she felt well prepared for cold weather — but not, as it turned out, for a winter in the Chinese countryside. The temperature typically fell to fifteen degrees below zero, she said, and none of the buildings were heated.
"I come from Canada, and I can certainly handle the cold," she said. "But not like this. This was relentless."
After a road accident in which the company's van was sideswiped by a truck on a snowy country road, they had to wait around in the cold once more. "I looked at Penn at one point and I said, 'Ebola was easier than this," Bienstock recalled.
Penn and Teller's Magic and Mystery Tour airs on CBC in three weekly segments, Oct. 2, 9 and 16, at 9 p.m. ♦
© 2001