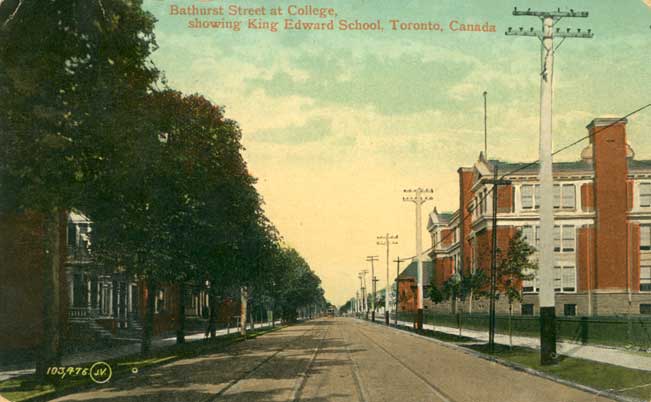 King Edward Public School will celebrate its 100th anniversary with festivities planned for September 29 to October 3 (2002).
In 1872, the Bathurst Street School opened at the corner of College and Bathurst streets. In September 1902, the Toronto Board of Education renamed the school in honour of King Edward VII who ascended the throne of Britain the same year a new school was built.
Located at 112 Lippincott Street in the neighbourhood where several generations of Jews had their homes and businesses, King Edward holds memories for many in the Toronto Jewish community.
Ami Trefler, principal of King Edward, says the reunion will bring together graduates, students, parents, staff and community members.
"I am extremely proud to be associated with King Edward Public School, which has a long history in the downtown community. I have a special attachment to this area, as my father grew up just a few blocks from the school and some of my first memories are of the College and Bathurst neighbourhood."
The celebrations will begin with a centenary gala concert with Molly Johnson and Friends on Sunday, September 29, followed by an alumni reunion and reception later in the day with photos, stories and memorabilia.
On Tuesday, there will be a screening of the National Film Board documentary, The Film Club, about the members of the King Edward film club. Discussion groups will follow.
On Thursday, students and staff will celebrate at a happy 100th anniversary party.
"I am so looking forward to being part of King Edward's public school reunion," said Mae Waese, a King Edward alumna who served as a school trustee and former chair of the North York and Metro Toronto school boards.
"Memories flood back as I recall my days at the school. Three of my closest friends — we are grandmothers now — attended the school, where our friendships began in our kindergarten year.
"It was a place to make lifetime friendships, get a strong basic education, and there are several teachers that left me with lasting memories."
Waese adds that attending King Edward was especially meaningful to her, as her mother attended the school in the early 1920s. "My mother introduced me to Miss Pomeroy and her principal, Mr. Allan — we didn't use first names in those days — which helped pave the way to a great experience at the school."
A special centenary project will be established with the proceeds of the concert, a silent auction and donations. The money raised will convert the outdated design and technology room, previously known as The Shop, into a modern information technology and resources centre.
"This is a huge undertaking," Trefler says. "We believe in the importance of this project, and we are confident that with the support of the school community and alumni, we can create the foundation for a resource centre that will serve our students well into our next century." ♦
This article first appeared in the Canadian Jewish News and appears here courtesy of the author. © 2002 by Cynthia Gasner.