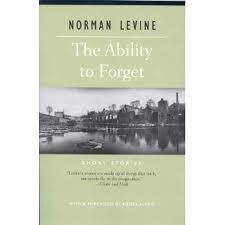 The Ability to Forget, a compelling new collection of short stories by Canadian expatriate writer Norman Levine, is a welcome addition to his much-praised ouevre, which includes By A Frozen River, Canada Made Me and other celebrated collections going back decades.
Levine's trademark first-person narration is usually as sparse as it is sparkling. These 15 quirky and quasi-autobiographical sketches present economical accounts of memorable encounters combined with a minimalistic flourish that transforms them into art.
The author frequently juxtaposes two encounters or experiences in a single tale, leaving the reader to infer the connection between them. With Levine, a fierce subtlety is often in play, the whole is usually more than the sum of its parts, and the meaning always emerges from between the lines.
The first story, My Karsh Picture, quickly wins us over and offers a taste of what's to come. In it, Levine recalls sitting after-hours for a portrait with an assistant of the legendary photographer in his Ottawa studio, just before leaving to join the war as a young air force pilot during WWII.
Filtered through the sweet prism of memory, the stories are often tinged with sadness and loss. Yet, as in My Wife Has Left Me and Gifts, they also betray an inescapable comic sensibility.
In Gifts, for example, Levine meets two strangers in a restaurant who offer to drive him from Ottawa to Toronto. They proclaim themselves as bank robbers but we think they're just joking until they enlist his help in distributing $20 bills in the front doors of houses in a town enroute.
A seeker of adventure, irony and thrilling character revelation, the author delights in such delicious little ambiguities and mysteries.
He also adheres religiously to the first-person experiential narrative technique, and one senses that he would regard the third-person omniscient voice as a manipulation of the author-reader relationship.
Indeed, he dons such a disguise in The Man With the Notebook, using the third person to convey information that seems essentially about himself. Suddenly the prose seems cold, uninviting, distanced. The experiment didn't work.
In a few stories, Levine refers to his Jewish roots and his Jewish upbringing in Ottawa. But it's unclear whether he identifies his own personal sense of exile, which he conveys with such sensitivity, with that of the Jewish people, from whom he seems so detached.
In Continuity, the Levine persona meets a Hebrew professor along the Cornish coast, both having shown an interest in local Jewish cemeteries.
The professor tells him that Jewish travelers through the region in the 1700s would chalk Hebrew messages in frying pans at certain inns where Jews were welcome, to assure the next Jewish traveler that the pan's kashrut had been preserved.
Levine seems to be searching for similar links with the past, similar assurances that sympathetic others have also trod the lonely and peripatetic path he has chosen for himself.
Even though I regard Levine's earlier story Thin Ice as one of the best Jewish stories written by a Canadian, I admit I've been disappointed by other of his stories (such as Something Happened Here) from previous collections.
Perhaps the best tribute I can pay to this new collection, therefore, is that it prodded me to reread some of those earlier pieces and re-appraise them in a more favourable light. ♦
© 2003