From Beth Sholom Newsletter, 2008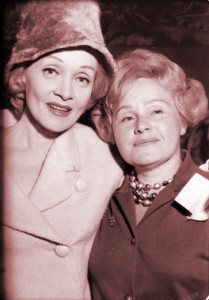 Eva Rothblott [who died on December 7, 2012] was born on Baldwin Street in Toronto in 1918 — ninety years ago — and has been associated with Beth Sholom Congregation "from the very beginning," she told me when I met with her recently at her retirement home on Sheppard Ave. W. "I've been a member more than sixty years."
Eva was a founding member of the Beth Sholom sisterhood and its president for many years. "When we joined the shul, I didn't like to sit still so I became active in the sisterhood and they made me the president. I was sisterhood president for six years and I said, 'That's enough! Let someone else do it to make it move,' but they wouldn't let me go."
In the shul's early days, the women would make breakfast for the men on Sunday mornings as they davened in the small chapel downstairs. "We did it ourselves in the kitchen. The food we gave them was better than the food they give here. And in the back wall there was a gift shop, and there used to be beautiful pictures on the wall; I don't know what happened to them."
Once, about fifty years ago, the famous actress Marlene Dietrich came to Beth Sholom for an Israel Bonds drive when Rothblott was its chairman. Meeting Dietrich "was a very pleasant experience," she recalled as she showed me a photograph of herself tete-a-tete with the film star. "She was very approachable. I was happy to get my picture taken with her: she wanted the picture taken, not me. She was a very nice lady. I met lots of other celebrities."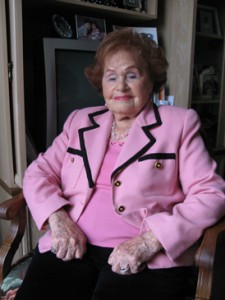 As sisterhood president, Eva helped arrange many successful fund-raising events. She would phone businessmen in the congregation and ask them to donate something. "Do you know who Danier Leather is? Well, he was a member of the synagogue and I knew him personally. So I called him and said, 'If you have any jackets with damage or anything, we would appreciate them.' He sent us 200 leather jackets and we got $50 for each one. There was one man in the make-up business who gave us a lot of stuff: we had a ball with the stuff he gave us. Sometimes we made $7,000 and $8,000. Thirty or forty years ago, that was a lot of money."
At Rabbi David Monson's request, Eva became active in fund-raising for Shaarei Tzedek Hospital of Jerusalem, and once supplied table centerpieces for a fundraising dinner for the hospital. "I went to Woolworths, bought some plastic dolls, and put nurse's uniforms on them," she recalled. "Then I got some Magen Davids and sewed them onto the nurses' caps to show that they were Jewish. Everybody liked the centerpieces. They paid $25 for them, that's how nice they looked."
Later president of the Canadian fundraising arm of Shaarei Tzedek, she organized many sales, fashion shows, parties and other events, and met "a lot of dignitaries, prime ministers" and other interesting people. She showed me a photograph of some of the Beth Sholom executive, including herself, with former Israeli foreign minister Abba Eban; then another with actor Al Waxman.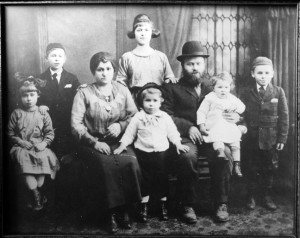 Eva was born into the Mandel family. Her father, Victor Mandel, came over from Europe in 1903 and worked for Tip Top Tailors. Eva's parents had seven children in Toronto. "I was the second youngest. And one sister was born after me."
She was married for sixty-two years to Murray Rothblott, who was in the scrap business; his company was Rothblott & Sons on Front Street. Murray once bought some tickets for a synagogue raffle and put the children's names on them. "My youngest was a daughter about two months old, so I couldn't go to the evening affair because I had the baby," she remembered. "I get a phone call about 12 or 12:30 at night and someone said, 'Is Mr. Howard there?' My oldest son's name was Howard. I didn't know who was on the telephone so I said, 'You have a lot of nerve calling at this hour of night — and there's no Mr. Howard here.' So he said, 'This is Rabbi Monson speaking. You just won a car in the shul raffle.' And I had given him heck for phoning! I learned how to drive right away."
Murray and Eva Rothblott lived on Shallmar Blvd. for many years; he died ten years ago [ca 1998]. Both had served on Beth Sholom's board of governors. "I have four children, ten grandchild and seven great granchildren," Eva said, her face lighting with nachus as she showed me pictures of the young ones. "And I'm expecting another baby soon from one of them."
Her best memories of Beth Sholom? "The people," she said unhesitatingly.
Today she is a lively nonagenarian who thrives on being active and being around people. She goes to the gym every day, takes in plays and lectures, attends synagogue services in the building where she lives, and has even found a boyfriend in her building. She was recently interviewed on "The Jewish Hour" radio show, and afterwards show host Zelda Young said she had sounded like a woman of fifty.
"I like to move and do and be part of things," she said. "I like to keep busy." ♦
◊ Eva Rothblott passed away Friday, December 7, 2012 at Sage Care Nursing Home. Beloved wife of the late Murray Rothblott. Loving mother and mother-in-law of Howard (Hushy) and Sharon, Susan Cohen, Bradley, and the late Marty Rothblott. Dear sister of six late siblings. Proud grandmother of Andrew and Jeannine, Barbara, Justin and Katy, Ryan and Olga, Matthew, Jared, and Harrison. Devoted great- grandmother of Darren, Amanda, Myles, Lola, Gray and Brayden. Dearly missed by many nieces and nephews. Interment Beth Sholom Synagogue Section of Mt. Sinai Memorial Park. 
© 2012