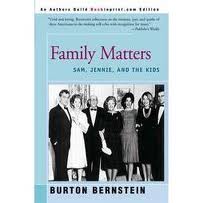 Family Matters: Sam, Jennie and the Kids, by Burton Bernstein, was first published in 1982, and remains, 30 years later, one of the most interesting family histories this reviewer has read. The reason is not so much that Burton Bernstein was the brother of a celebrity, the great composer-conductor Leonard Bernstein, but because he treated his brother Lenny just like one of the family, giving equal weight to all other players in the family's saga. Herewith, a look back at a worthy book on its 30th anniversary:
* * *  
Sam Bernstein, a New England industrialist who acquired the franchise to the Frederics hair-styling machine in the mid-1920s, became a remarkable overnight success after America was seized by a permanent-wave craze at the height of the flapper era.
"One day in 1927, I didn't have a nickel to my name," he used to say. "The next morning, I went into the office and it looked like every salon operator in New England wanted a Frederics. I couldn't handle all the orders with just a few people working for me, so I had to hire salesmen and secretaries and bookkeepers and shipping clerks and stockboys, all in a couple of days. I suddenly had money in the bank, credit everywhere, a name for myself — just because of Frederics. It was what you call the American Dream coming true."
A generation later, Sam's son Lenny experienced his own version of the American Dream. A budding composer and assistant conductor, Lenny was given the chance to conduct the New York Philharmonic when Bruno Walter suddenly took ill. His Carnegie Hall debut was a triumph: the audience "roared like one giant animal in a zoo," Lenny's brother, Burton, would recall. "It was certainly the loudest human sound I had ever heard — thrilling and eerie."
Burton Bernstein recorded many such pivotal moments in the history of his family in a charming 1982 book, Family Matters: Sam, Jennie and the Kids. Originally published in instalments in the New Yorker magazine, it appeared in book form the same year and was reprinted by backinprint.com in 2000.
Rather than simply providing a hagiographical account of the early years of Leonard Bernstein (1918-1990), Burton presents a gripping and immensely readable study of the family's roots that focuses equally on his larger-than-life parents, Sam and Jennie, in part one, and on their three kids in part two.
The book details the antisemitic upheavals and other factors that forced 16-year-old Samuel ("Shmuel Yosef") Bernstein to flee from his hometown of Beresdiv, Ukraine. "While no full-fledged pogroms struck Beresdiv, several aftershocks were felt. Nightriders — usually local peasants who had dealt amiably with the Jews just a few hours before — would gallop into the shtetl and smash windows, set fires, and terrorize the population."
It also provides many realistic details about the grueling two-week voyage to America, during which some passengers prayed continuously for their survival. "One day, the city skyline appeared like a row of fairy-tale castles, and they were herded ashore onto Ellis Island. The bleak, echoing halls, crammed with the frightened and the sick, were at least terra firma."
By the time Sam reluctantly brought his elderly parents to America in the pre-war era, he had grown so detached from his own past that they would forever be like strangers to him. Unable to adjust to America, they died bitter and forsaken, cursing themselves for having left their home.
The fully Americanized Bernsteins felt unable to connect the tragedy of the Holocaust with themselves until much later, when Burton discovered a list of dead that included dozens of relatives: "After reading that death roster of people I never knew, not only did I understand the Holocaust but I understood — for the first time, really — what my family was."
In addition to the riveting family history, Burton shares his experiences with us as the kid brother of a famous composer. A pioneering genealogical study, Family Matters is an endearing and intimate portrait of a close-knit Jewish family that remains a pleasure to read. ♦
© 2004